What are Critical Studies on Men and Masculinities? And Why are They Needed?
In this session I will introduce developments in Critical Studies on Men and Masculinities over the recent decades, provide examples of studies on specific topics and in specific disciplinary frameworks, and suggest some further applications, potentials and also some pitfalls in the these studies, as a sub-field of Gender Studies.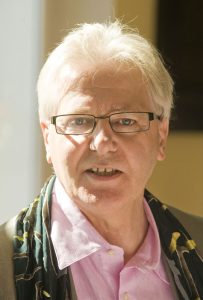 Jeff Hearn is Senior Professor, Gender Studies, Örebro University, Sweden; Professor of Sociology, University of Huddersfield, UK; Professor Emeritus, Management and Organisation, Hanken School of Economics, Finland; Professor Extraordinarius, University of South Africa; and honorary doctor in Social Sciences, Lund University, Sweden. His research focuses on gender, sexuality, violence, men and masculinities, work, organizations, social policy, and transnational processes. His many books include Gender, Sexuality and Violence in Organizations, with Wendy Parkin, Sage, 2001; European Perspectives on Men and Masculinities, co-author, 2006; Men and Masculinities Around the World, co-ed., 2011, both Palgrave Macmillan; The Limits of Gendered Citizenship, 2011; Rethinking Transnational Men, 2013, both co-ed. Routledge. He is co-managing editor, Routledge Advances in Feminist Studies and Intersectionality book series; co-editor, NORMA: the International Journal for Masculinity Studies; Co-chair, RINGS: International Association of Institutions of Advanced Gender Studies. Recent books include: Men of the World: Genders, Globalizations, Transnational Times, Sage, 2015, Sage; Men's Stories for a Change, co-author, Common Ground, 2016; Revenge Pornography, with Matthew Hall, Routledge, 2017; Engaging Youth in Activist Research and Pedagogical Praxis: Transnational Perspectives on Gender, Sex, and Race, co-ed. with Tamara Shefer, Kopano Ratele and Floretta Boonzaier, Routledge, 2018; Unsustainable Institutions of Men: Transnational Dispersed Centres, Gender Power, Contradictions, co-ed. with Ernesto Vasquez del Aguila and Marina Hughson, Routledge, 2018.
More information:
https://www.oru.se/english/employee/jeff_hearn
https://www.hanken.fi/en/person/jeff-hearn
https://pure.hud.ac.uk/en/persons/jeff-hearn